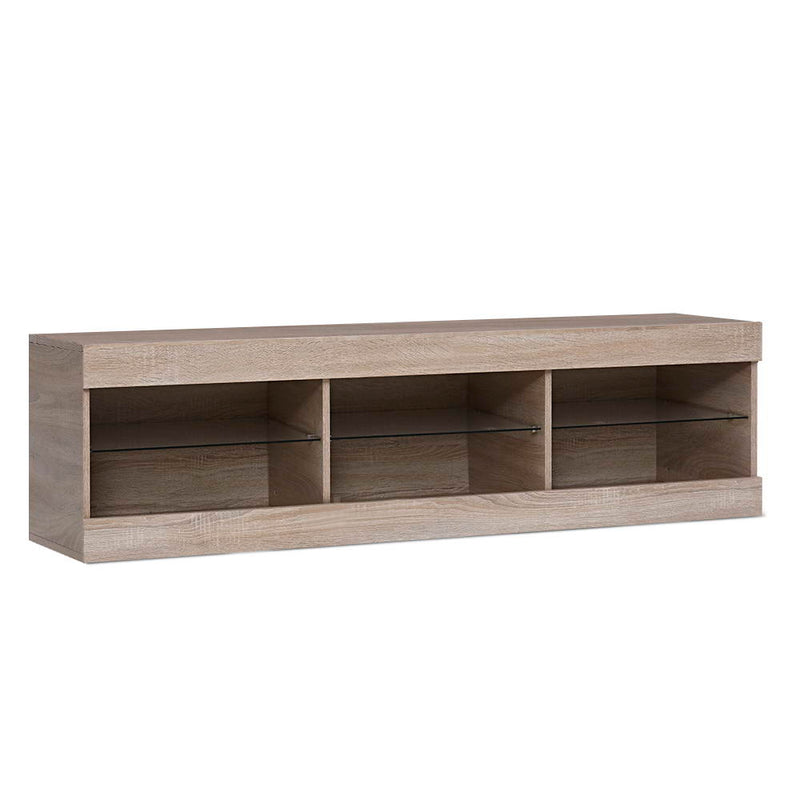 Trendy, stylish and super practical, the Artiss LED Entertainment Unit is a must-have for gaming, music and television enthusiasts alike. This unit is the perfect focal point for your modern living room with its contemporary and linear design. It comes with built-in LED lighting that can be fully customised with 16 different colours and four different effects to suit your preferences. The six large open shelves divided by durable and sleek tempered glass provide ample storage for all your entertainment paraphernalia and make an excellent display for consoles, speakers, or collectables. It has safe edges, sturdy glass clips, and an SAA-approved adaptor for your peace of mind. Not only does it create a beautiful ambience, it is certain to be a showstopper that will captivate all your houseguests. Make a statement with the Artiss LED Entertainment Unit.
Features:
Customisable LED light
16 colours
4 flashing modes
Solid construction
Open storage
Tempered glass shelves
Study glass clip
SAA-approved adaptor
Easy assembly
*Note: Please point the remote control towards receiver to customise LED light.
Specifications:
Brand: Artiss
Material: Particle board
Shelf: Tempered glass
Finish: Paper veneer
Overall dimensions: 150cm x 40cm x 40cm
Colour: Oak
Package Contents:
1 x Artiss LED Entertainment Unit
1 x Assembly Manual
Service Posted for delivery Delivery by (business day after posting) Regular parcel Within metropolitan areas of capital cities, or within the same city or town or environs 3-4 days Between a metropolitan area of a capital city and country locations 3-4 days Between country locations 4-5 days Sending parcels to other states Service Posted for delivery Delivery by (business day after posting) Regular parcel Between Melbourne / Sydney; Melbourne / Canberra; Melbourne / Adelaide 3-5 days (between metropolitanareas) Melbourne / Brisbane; Melbourne / Tasmania; 4-8 days (between metropolitan areas) To other interstate locations Please ask at your local