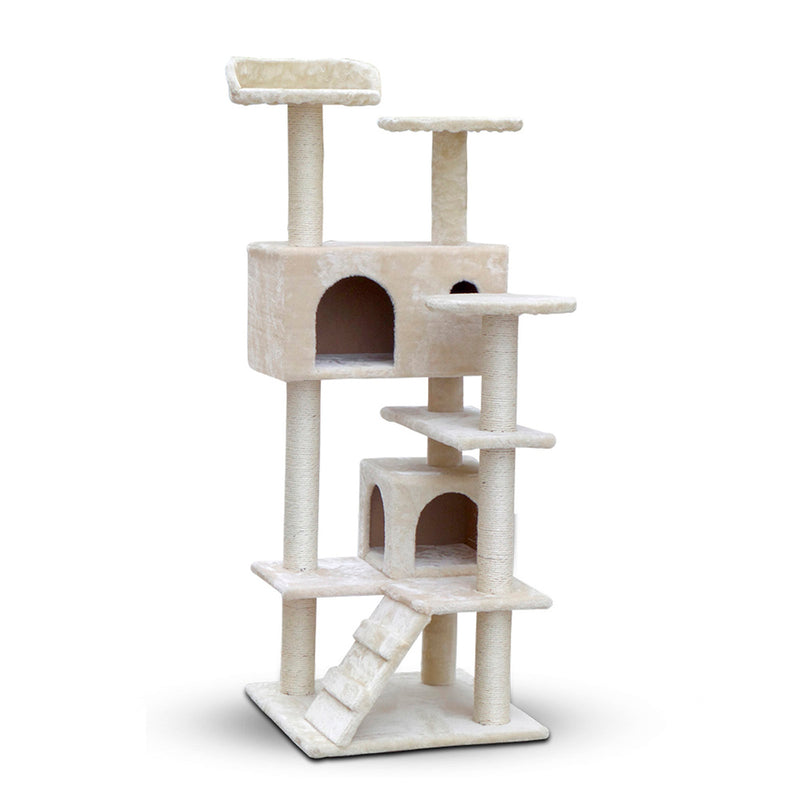 Medium Cat Tree - 134cm
Our latest cat tree is the ultimate home for any cats. It combines scratching, perching, chasing, climbing and just plain fun all in one piece. The multiple platforms allow your cats to jump around; and the plush carpeted surface provides extra comfort.
The cat tree comes with 2 bed cubes and a few platforms to provide some shelter. The tubes are wrapped with sisal ropes for your pets to scratch and play with. The sturdy base prevents any swaying so it is safe on any flat surface so you do not have to worry about injury to your cat. The stylish cat tree will perfectly blend in with your decor.

Features
* Natural sisal poles
* Bed cube and platforms for comfortable resting
* Well finished with soft plush covering
* Sturdy balanced construction
* All in one - Scratching, perching, climbing and playing
* Suitable for multiple cats
* Sisal Poles: x 6
* Bed cube: x 1
* Round platforms: x 2
* Enclosed caves: x 2
* Step ladder: x 1
* Height: 134cm
* Base dimensions: 50 x 50cm
* Colour: Beige
Package Contents
1 x Cat Tree
1 x Accessory Pack
1 x Assemble Manual

Service Posted for delivery Delivery by (business day after posting) Regular parcel Within metropolitan areas of capital cities, or within the same city or town or environs 3-4 days Between a metropolitan area of a capital city and country locations 3-4 days Between country locations 4-5 days Sending parcels to other states Service Posted for delivery Delivery by (business day after posting) Regular parcel Between Melbourne / Sydney; Melbourne / Canberra; Melbourne / Adelaide 3-5 days (between metropolitanareas) Melbourne / Brisbane; Melbourne / Tasmania; 4-8 days (between metropolitan areas) To other interstate locations Please ask at your local