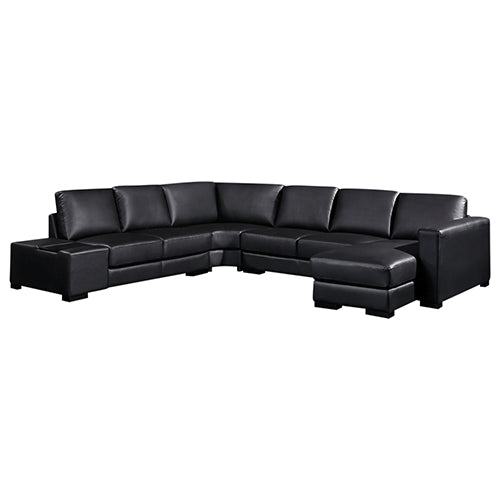 Modern Look
Add a sleek modern vibe to your living room with this luxurious sofa. It is upholstered in premium bonded leather for an inviting look and long lasting shape. Plush pillow back cushions crafted with high-density foam ensure superior comfort.
Supreme Comfort
The corner curve lets you pull your feet up and interact at a comfortable angle, rather than being parallel to the other person. It is also highly suitable to watch TV while sprawling on the chaise section.
Versatile Piece
This is a versatile piece of furniture. Besides serving the purpose of seating and leaning arrangement, it comes to you with an inbuilt wooden table on one side of the sectional. You can keep your morning tea or evening snacks on it and enjoy leisure time.
Key Features:
Modern Sectional Sofa
Upholstered in Premium Bonded Leather
High Density Foam to give Comfort and Support
Sturdy Construction with Solid Wood Structure
Wooden End Table on One Side of the Sectional
Solid Wood Legs in Espresso Colour
Smart Soft Packaging
Product Specifications:
Product Dimension (cm):
Right Chaise: L-173 x W-90 x H-82
2 Seater: L-185 x W-90 x H-82
2 Seater: L-140 x W-90 x H-82
Corner: L-110 x W-110 x H-82
Box Dimension (cm):
Box 1: L-97 x W-177 x H-81
Box 2: L-194 x W-94 x H-81
Box 3: L-112 x W-112 x H-81
Box 4: L-150 x W-94 x H-81
Product Weight: 164kg
Box Weight (kg): Box 1-45.5, Box 2-46.5, Box 3-40, Box 4-45.5
Packaging Type: Soft Packaging
Package Content
1 x Diva Sofa U Shape Large Size Black Colour Bonded Leather
Images are for illustration purposes only. The colours may slightly vary from actual product.
Service Posted for delivery Delivery by (business day after posting) Regular parcel Within metropolitan areas of capital cities, or within the same city or town or environs 3-4 days Between a metropolitan area of a capital city and country locations 3-4 days Between country locations 4-5 days Sending parcels to other states Service Posted for delivery Delivery by (business day after posting) Regular parcel Between Melbourne / Sydney; Melbourne / Canberra; Melbourne / Adelaide 3-5 days (between metropolitanareas) Melbourne / Brisbane; Melbourne / Tasmania; 4-8 days (between metropolitan areas) To other interstate locations Please ask at your local