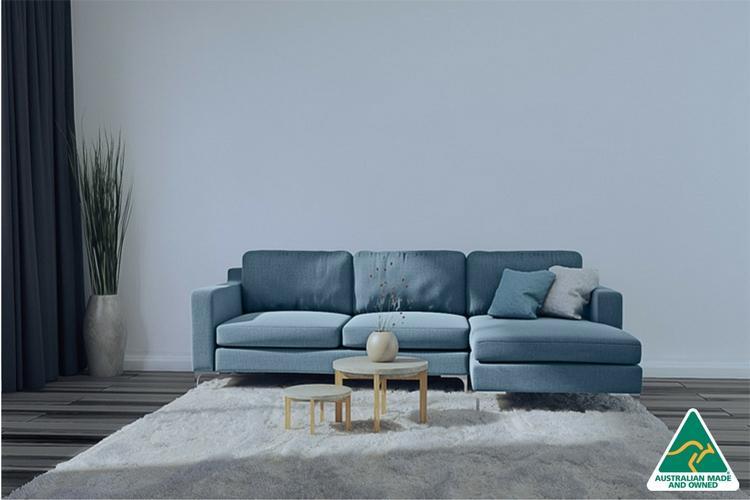 PROUDLY AUSTRALIAN MADE AND AVAILABLE FOR DELIVERY WITHIN 1-3 WEEKS.
LEFT OR RIGHT-HAND DESIGN AVAILABLE
* Note the Chaise Side is determined facing the Lounge
Come home and relax on the Grayson lounge. Featuring a relaxed and homely style look. Featuring a 3.5 seater sofa and chaise in a blue textured linen. The Grayson is a sophisticated design in a multi-unit featuring either a left or right hand chaise option. This collection also features matching contrast pillows.
To ensure strength and stability the frames and armrests feature timber construction. High density poly fibre fills are used in all back cushions for superior comfort. For added support all seat cushions are made of dunlop stamina foam providing superior comfort and support.
A favoured fabric among our family customers. Linen has proven to be a very strong and durable solution for heavy traffic living spaces. The texture also hides spills and stains, plus all seat covers are removable for easy dry cleaning.
Modern style and plush comfort

Covered in beautiful pastel blue polyester linen fabric

Available in either left or right hand construction (Facing the Lounge)
Solid reinforced frame
Two matching pillows

10 Trees are planted offsetting Approx. 2.5 Tonne of CO2
Dimensions
Dimension of the lounge complete 230cm Long at the back by 150cm chaise
2.5 Seat 90cm Wide x 140cm Long x 75cm High
Chaise 90cm Wide x150cm Long x 75cm High
Warranty
5 year warranty on coverings and structure

5 year warranty on Dunlop Stamina seat cushions
Assembly
This sofa requires limited assembly. Unpack ,clip together and relax.
Delivery Times & Rates
Most orders are delivered FREE and in under 7 business days.
Please view our Home Delivery page for further details, or enter your postcode into the calculator at the top of this page.
What is the difference between Think Lounges & other sofa stores?
We offer our customers a FREE, FAST and RELIABLE home delivery service.

You won't pay for overstaffed, fancy showrooms and expensive advertising campaigns. We estimate this saves you 60% on your new sofa when compared to the traditional furniture stores.

You won't have to wait 8-12 weeks for your new sofa. If your sofa says it's in stock then we can deliver it to most locations in under 7 business days.

Your purchase helps to protect the planet, we plant 10 trees for every sofa sold.

You will receive superior customer service backed by outstanding verified customer reviews.

We are a rapidly growing Australian company that cares deeply about your experience, your new sofa and our impact on society and the environment.
Service Posted for delivery Delivery by (business day after posting) Regular parcel Within metropolitan areas of capital cities, or within the same city or town or environs 3-4 days Between a metropolitan area of a capital city and country locations 3-4 days Between country locations 4-5 days Sending parcels to other states Service Posted for delivery Delivery by (business day after posting) Regular parcel Between Melbourne / Sydney; Melbourne / Canberra; Melbourne / Adelaide 3-5 days (between metropolitanareas) Melbourne / Brisbane; Melbourne / Tasmania; 4-8 days (between metropolitan areas) To other interstate locations Please ask at your local