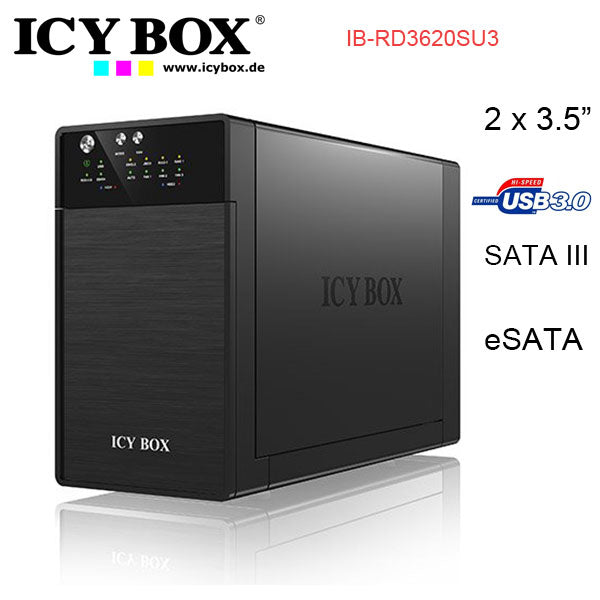 The price/performance tip
The ICY BOX IB-RD3620 is a 2x RAID system that was designed for working fast with big amounts of data. In the high quality aluminium enclosure, two SATA HDDs can be mounted without the use of any tool. The fast interfaces (eSATA, USB 3.0) make sure that data intensive programs, for example, video editing is always done in high performance on both PCs and Macs.
Thanks to the temperature controlled fan, the IB-RD 3620 is quiet and provide and cool operation temperature at all times. This item has a synchronised standby mode which help save the environment and save energy. Supported RAID modes are JBOD, BIG, RAID 0 (Striping) and RAID 1 (Mirroring).
Features:
External 2 bay RAID system for 3.5" SATA I/II/III HDDs
Silent operation by thermal controlled fan
Energy saving by supporting sleep modus!
Raid modes: RAID 0, 1, JBOD (Spanning/Single)
Easy assembling by trayless design!
Specifications:
Model: IB-RD3620SU3
Brand: ICY BOX
Material: Aluminium/plastic
Colour: Black
HDD size (inch): 3.5" SATA
HDD interface: 3.5" SATA
Hot & Swap: Yes
Plug & Play: Yes
HDD capacity: unlimited (> 3 TB each HDD)
OS: Windows & MAC
External data interface: USB 3.0, eSATA
RAID Level: RAID 0, 1, JBOD (Spanning/Single)
Power switch: Yes
Auto rebuilding: Yes
Datenueber: USB 3.0 up to 5.0 Gbit/s, eSATA up to 3.0 Gbit/s
Power connector: External power supply, Input: AC 100~240 V, Output: 12 V / 3 A / 36 W (IB-3620U3), 12 V / 4 A /48 W (IB-RD3620SU3)
LED: Power, fan, interface, HDD in use and access and additionell HDD in use and RAID access
Service Posted for delivery Delivery by (business day after posting) Regular parcel Within metropolitan areas of capital cities, or within the same city or town or environs 3-4 days Between a metropolitan area of a capital city and country locations 3-4 days Between country locations 4-5 days Sending parcels to other states Service Posted for delivery Delivery by (business day after posting) Regular parcel Between Melbourne / Sydney; Melbourne / Canberra; Melbourne / Adelaide 3-5 days (between metropolitanareas) Melbourne / Brisbane; Melbourne / Tasmania; 4-8 days (between metropolitan areas) To other interstate locations Please ask at your local