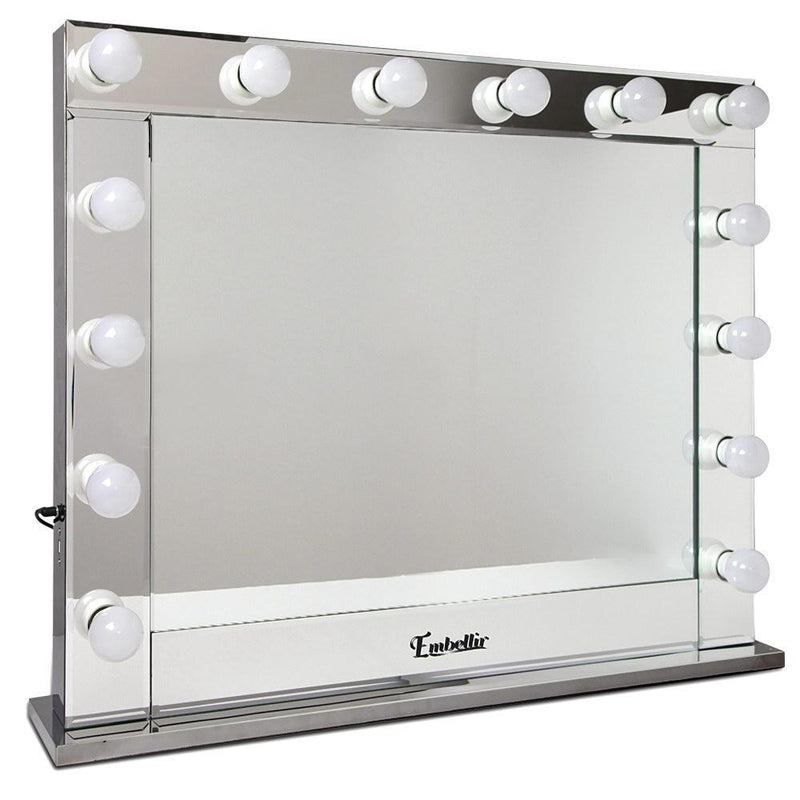 Make Up Mirror Frame with LED Lights 65x80cm
Framed with 14 LED lamps, this Makeup Mirror really lights up your countenance during your daily makeup regime. The aluminium frame is sturdy and lightweight and adds a glistening touch of glamour to the entire mirror. The frame sits on an equally smooth power-coated MDF base for good stability and durability. Or if you prefer, there is also a frameless option for a totally seamless look (Check out other listings in-store).
What's even more wonderful is that all LED lamps can be adjusted for brightness via the dimmer switch while a handy single USB port lets you link up your mobile phone or any portable device for charging or use. Such a thoughtful design. Not least, the Makeup Mirror can be used as a free standing model or wall mounted with the supplied hanging wire to suit your décor.
Features
* Makeup mirror
* 14 LED bulbs
* Dimmer switch for adjustable brightness
* Sturdy and lightweight alumimium frame
* Powder-coated MDP base
* One USB port
* Free standing or wall mounted
* SAA-approved
Specifications
* Size: 65 x 80cm
* LED bulb quantity: 14pcs
* Wire length: 200cm
Package Content
1 x Make Up Mirror
1 x Assembly Instruction
Service Posted for delivery Delivery by (business day after posting) Regular parcel Within metropolitan areas of capital cities, or within the same city or town or environs 3-4 days Between a metropolitan area of a capital city and country locations 3-4 days Between country locations 4-5 days Sending parcels to other states Service Posted for delivery Delivery by (business day after posting) Regular parcel Between Melbourne / Sydney; Melbourne / Canberra; Melbourne / Adelaide 3-5 days (between metropolitanareas) Melbourne / Brisbane; Melbourne / Tasmania; 4-8 days (between metropolitan areas) To other interstate locations Please ask at your local