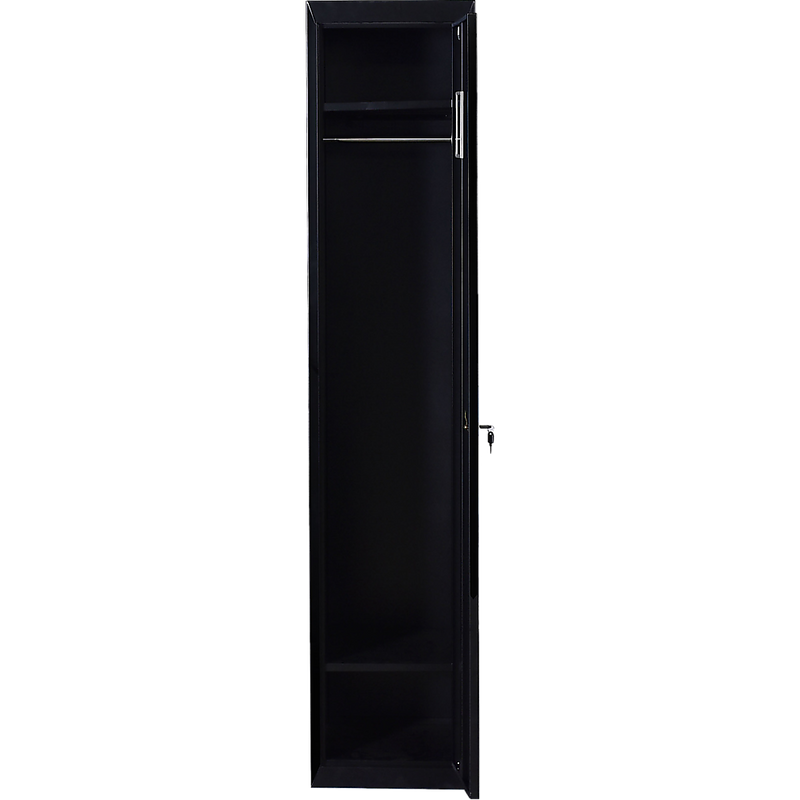 1-Door Clothing Locker
At school, at home, or at work, the 1-Door Clothing Locker gives you, your employees, or your students the storage space they need for clothing and much more.
These vertically-stacked lockers each feature clothing rods to keep clothing wrinkle-free, while air vents provide sufficient ventilation. Naturally, books, valuables, and any number of personal belongings could also be stored in this versatile unit in addition to clothing.
The locker is constructed with solid cold-rolled steel plate for excellent sturdiness and durability, not to mention an attractive look. The steel is also powder-coated to resist corrosion. The locker measures 180 x 38 x 45 cm, and the maximum recommended weight capacity is approximately 30kg. Privacy and security are assured with a simple lock and key design. And there are spaces designated for labels to help identify lockers. Each lock comes with 2 keys.
For even more storage, consider buying two or more units, which can be placed together for a fully customisable configuration.
A simple design makes assembly easy, and your locker could be up and ready in about 10 minutes. Full assembly instructions are included.
For handy extra storage, the 1-Door Clothing Locker is your storage solution. Order today and take advantage of our everyday low price.
Features of the 1-Door Clothing Locker:
1 lockers, vertically positioned
Colour: Black
Locker dimensions: 180 x 38 x 45 cm (H x W x D)
Carton dimensions: 193 x 55.5 x 6.8 cm (H x W x D)
Clothing rod for each locker; built-in air vents for locker ventilation
Privacy and security with lock-and-key design
Recommended total weight capacity: 30kg
Durable cold-rolled steel plate construction
Powder-coated to resist corrosion
Easy to assemble; instructions included
2 Keys per Lock. 1 Lock in total
Attributes:
Note:
COM (change of mind) Return Policy:
The product must be unopened and in brand new condition, with the return to be organised by the customer. Once received and verified to be in the condition specified, refund is only of the item value minus 15% restocking fee (not including initial shipping). An additional return charge, which is same cost as that of initial shipping, will be deducted from the refund on returns due to delivery failure caused by customer error. For the health and safety of our staff and other customers, we are unable to accept returns of personal use items.
Service Posted for delivery Delivery by (business day after posting) Regular parcel Within metropolitan areas of capital cities, or within the same city or town or environs 3-4 days Between a metropolitan area of a capital city and country locations 3-4 days Between country locations 4-5 days Sending parcels to other states Service Posted for delivery Delivery by (business day after posting) Regular parcel Between Melbourne / Sydney; Melbourne / Canberra; Melbourne / Adelaide 3-5 days (between metropolitanareas) Melbourne / Brisbane; Melbourne / Tasmania; 4-8 days (between metropolitan areas) To other interstate locations Please ask at your local