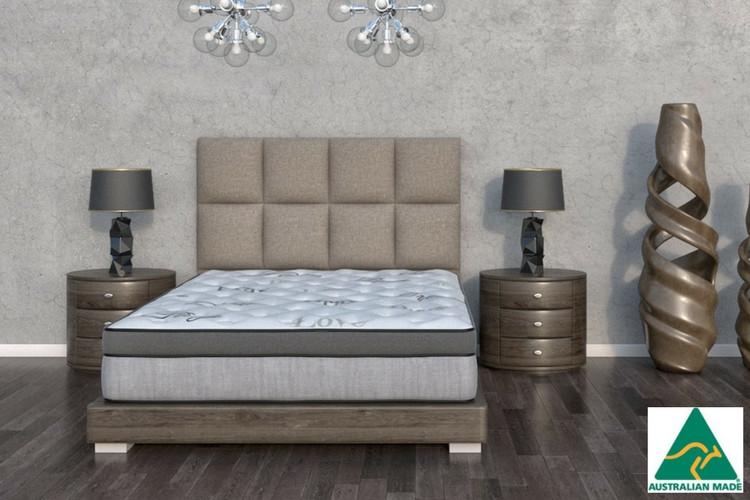 Description
The Pinnacle Edition mattress is a long lasting durable mattress and designed for maximum support. With the heavy duty 5 zoned pocket spring system, you can rest assure this mattress is supportive while not compromising on comfort. The Pinnacle Edition is popular mattress offering minimal partner disturbance though superior technological advancements over time. Boasting a thick gel foam, equally thick cored latex layer and Dunlop convoluted foam in a pillow top construction, the Pinnacle Edition Mattress gives a plush supportive feel. This mattress is also covered in a high-quality stretch knit fabric to minimize heat and maximize air flow. 
Available in King and Queen 
Soft Plush Feel
5 Zone Pocket Spring
Thick Dunlop Foam Gel Layer
Thick cored Latex Layer 
Convoluted Foam Support Layer
Extra Side Support Coils
Cool Max Breathable Stretch Knit Fabric
Australian Made
10 Year Warranty 
Dimensions
Queen Size - 153cm Wide x 203cm Long X 30cm Thick
King Size - 182cm Wide x 203cm Long X 30cm Thick
Warranty
Assembly
Simply Unpack your Box and enjoy the comfort and a great nights sleep. 
Delivery Times & Rates
Most orders are delivered FREE and in under 7 business days.
Please view our Home Delivery page for further details, or enter your postcode into the calculator at the top of this page.
What is the difference between Think Lounges / Mattress & other stores?
We offer our customers a FREE, FAST and RELIABLE home delivery service.

You won't pay for overstaffed, fancy showrooms and expensive advertising campaigns. We estimate this saves you 60% on your new Mattress when compared to the traditional furniture stores.

You won't have to wait 8-12 weeks for your new mattress. If your Mattress says it's in stock then we can deliver it to most locations in under 7 business days.

You will receive superior customer service backed by outstanding verified customer reviews.

We are a rapidly growing Australian company that cares deeply about your experience, your new mattress and our impact on society and the environment.
Service Posted for delivery Delivery by (business day after posting) Regular parcel Within metropolitan areas of capital cities, or within the same city or town or environs 3-4 days Between a metropolitan area of a capital city and country locations 3-4 days Between country locations 4-5 days Sending parcels to other states Service Posted for delivery Delivery by (business day after posting) Regular parcel Between Melbourne / Sydney; Melbourne / Canberra; Melbourne / Adelaide 3-5 days (between metropolitanareas) Melbourne / Brisbane; Melbourne / Tasmania; 4-8 days (between metropolitan areas) To other interstate locations Please ask at your local